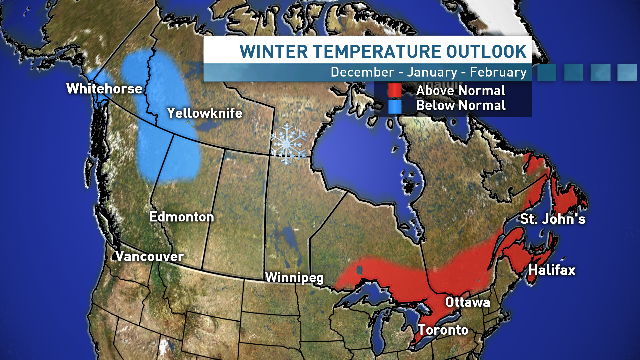 Environment Canada's Winter temperature outlook for 2012 does not make me happy
The Weather Channel's Winter temperature outlook for 2012 is the one I'm banking on
This year will mark my second Christmas in Canada. It is truly is hard to believe how quickly time flies. As I imagined, it seems long ago that my hopes and prayers centred around whether My Love and I would be reunited in Canada; whether our immigration application would be successful. That that prayer was answered is certainly enough for me for many Christmases to come.
This year is a mild one and southern Ontario will most likely have a green Christmas. There have really only been a couple of days that were even seasonally cold. I have been looking forward to a cold Winter this year, but Fall, which ends Friday, has not given me a lot of hope. A cold Winter means more time on the ice for me - I don't like to skate when it's 6-7, like it is now: there's too many fresh skaters filling the sheet. Falling is bad enough without taking someone down with you!
Hopefully with the end of Fall, normal temperatures will kick in and I'll get in all the skating I can handle.
Look for the Mind to take our usual Holiday sabbatical, as we travel to see family and generally stay away from the computer. Know that I am grateful for each and everyone of my readers, and especially those who have purchased one of my books in the last year. May you and yours have a Happy Christmas and a wonderful New Year ahead!