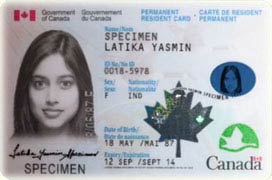 I thought when I first arrived in Canada that I would only have one Permanent Residence card. When I arrived in August of 2011, there was only a three-year residency requirement in order to apply for citizenship and then maybe a year wait until the test and then, once a citizen, I wouldn't need the card.
Harper sort of mucked that plan up for me and a lot of other permanent residents. My card expires early next year (I got it late after an administrative foul up), but I am within the 270-day renewal window, so I thought it was best to take care of it.
Renewing your permanent residence is a pretty straightforward process. There is an application form to fill out, IMM5444, Supplementary Identification form IMM5445 and a pretty reasonable list of accompanying documents. For most residents, the hardest part of the list will be documenting their visits outside of Canada for more than a single day. In order to maintain permanent residence status you must meet a residency requirement. You cannot be absent from the country for more than 1095 days over five years - you must live in Canada for at least two full years in a five year period.
You need to provide a list of every absence from the country - when you departed, when you returned, where you went and the purpose of the travel. Days out of the country with a family member who is a citizen do not count towards the number of days out of the country. Other exceptions are available that will not count against days outside of the country.
You will need to gather primary and secondary identity documentation, CRA tax assessments and have two new photos made (I had mine made at Shopper's Drug Mart).
I had most of the information at hand, still the process took me about six hours.
Don't wait too long before renewing your card as the processing can take up to 90 days and you don't want to be caught without a current card. You cannot get back into Canada from a foreign country without it.
This summer I will apply for citizenship and hopefully,
this
will be my last permanent residence card!
Online resources:
http://www.cic.gc.ca/english/information/pr-card/apply-replace-pr-card.asp